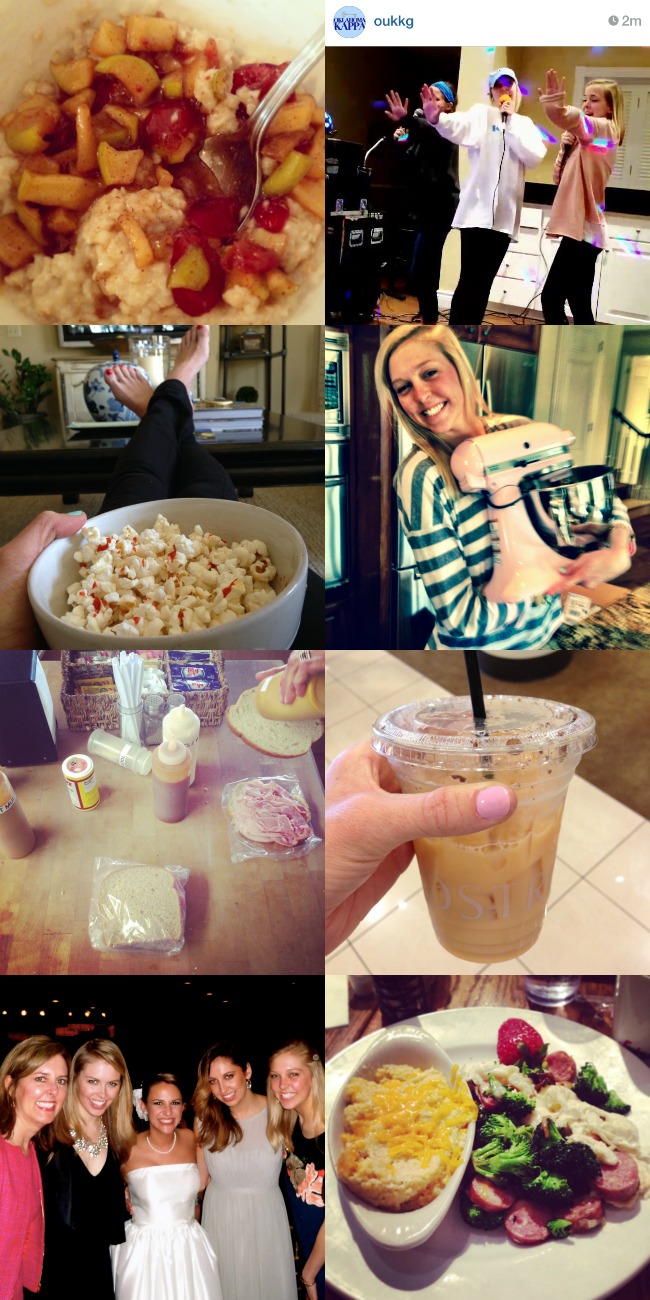 Happy Spring Break and Happy St. Patrick's Day! When I was little I used to set up a trap in hopes of catching a leprechaun. If the leprechaun were to escape (which he always did somehow) he would leave a treat in his path. I also still actively participate in pinching people if they aren't wearing green. My mom wasn't very happy about this, this morning.
Last week seems like forever ago after having such a packed weekend. My oldest sister's best friend from college got married in Dallas on Saturday, so I took another quick trip down to Texas to see #tandztietheknot! Now back at home, I have plans of breaking in my new Kitchen Aid mixer, taking Barre classes and doing lots of cooking before leaving for Charleston.
-Oatmeal with a green apple and cranberry compote made by my favorite Kappa cook Blanca. She loves to bribe us and I usually buy into it.
-Made it big on the Kappa insta at Kappa Karaoke. A little Spice Girls "Stop Right Now" to get the night going.
-Sirracha and curry popcorn to start off Spring Break.
-My new best friend was at home waiting patiently for my arrival, expect lot's of posts where she is the center of attention.
-A stop at Robertson's Hams on the way to Dallas.
-The Red Tea latte from Nordstrom's eBar. Roobios tea, honey, vanilla and milk.
-#tandztietheknot
-Bread Winner's round 2. The McKinney Ave scramble with a side of cheese grits.
xo annie