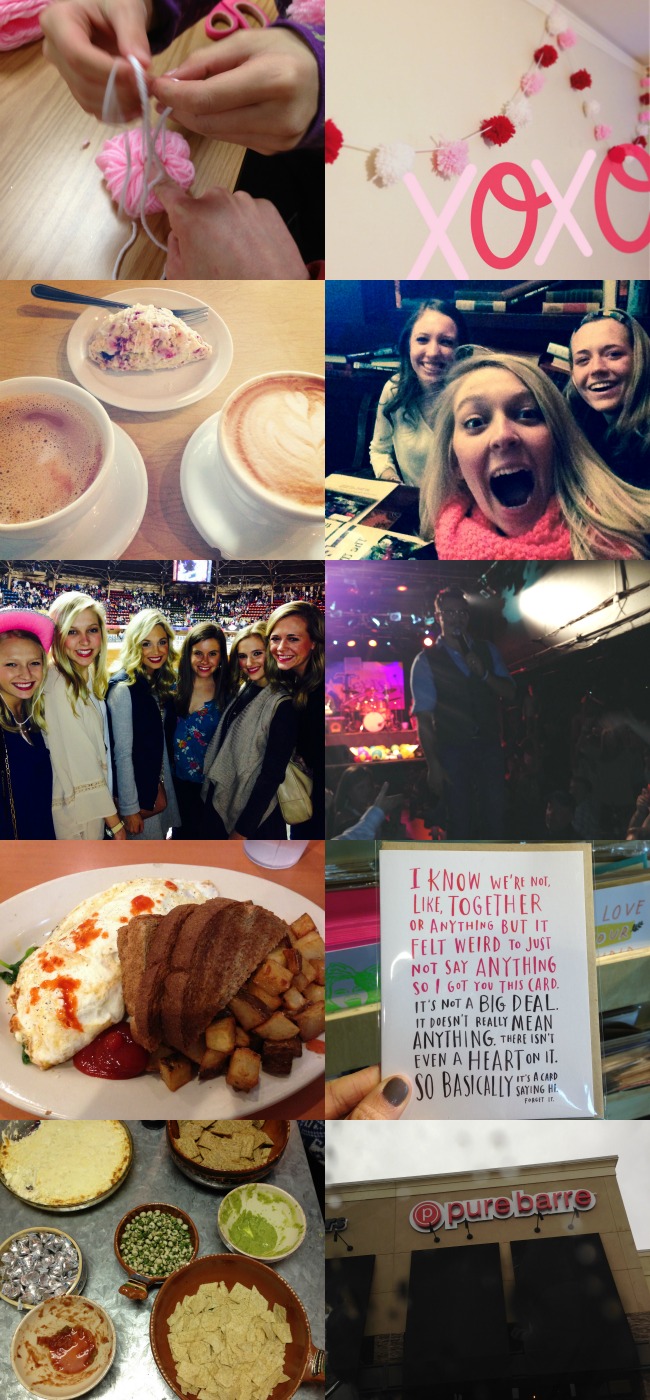 Last week was a small bite, but I'm making up for it a big bite this week! I have lots of pictures to take you back. During the week I stayed busy with school and activities, then headed south bound to Fort Worth for the weekend. A winter storm kept us from getting home by car, so we opted for the train to get back to snowy covered Norman. I'm now laying in bed hoping the second round of expected storms cancels school and my test this week.
Recap: I got in the Valentines Spirit, had a coffee date with one of my dearest friends, my long lost OSU best friend made a surprise visit, went to my first rodeo, danced the night away at a country concert, snuggled by the fire at my friend's ranch house, almost got snowed in, rode the train and missed the whole super bowl. It was a stocked week/weekend.
-My "little sister" was a big help with making pom pons for the DIY I posted last week.
-DIY Vday pom pon garland. Click
here
if you missed it.
-I love a good coffee date especially when the company and coffee are equally as good. My order was an almond milk latte!
-Thursday turned into one of the best days of the week when one of my best friends randomly came down to Norman. We dropped everything so that we could hang out all afternoon.
-Friday a bunch of us headed down to the Fort Worth Rodeo. To say we stood out a little is an understatement, but we still played along.
-We continued the country night by dancing and singing along with a concert by Josh Weathers at Billy Bob's.
-A stop at Yogi's the next mooring before heading to my friend's ranch house. I ordered the greek omelet. Egg whites, feta, tomatoes and spinach!
-I posted about this
card
last week, then saw it in person at Urban Outfitters. It's just hysterical and so perfect.
-Saturday night we arrived at the ranch. We wore camo, played catch phrase and ate lots of food. Here you can see the aftermath of our dip frenzy.
-A snow storm blew into Southern Oklahoma leaving us stranded in Texas. I finally got to try out a Pure Barre class while we waited for our alternate mode of transportation, the train.
We finally made it back from a memorable few days last night. Tomorrow I'll be sharing more about my weekend so make sure and check back. For now I'm trying to stay warm inside while the streets are covered in snow outside.
xo annie